Functionality in Repos
Funksjonalitet for lagring og versjonering av tjenester i Git-repositories samt funksjonalitet for application lifecycle management.
On this page: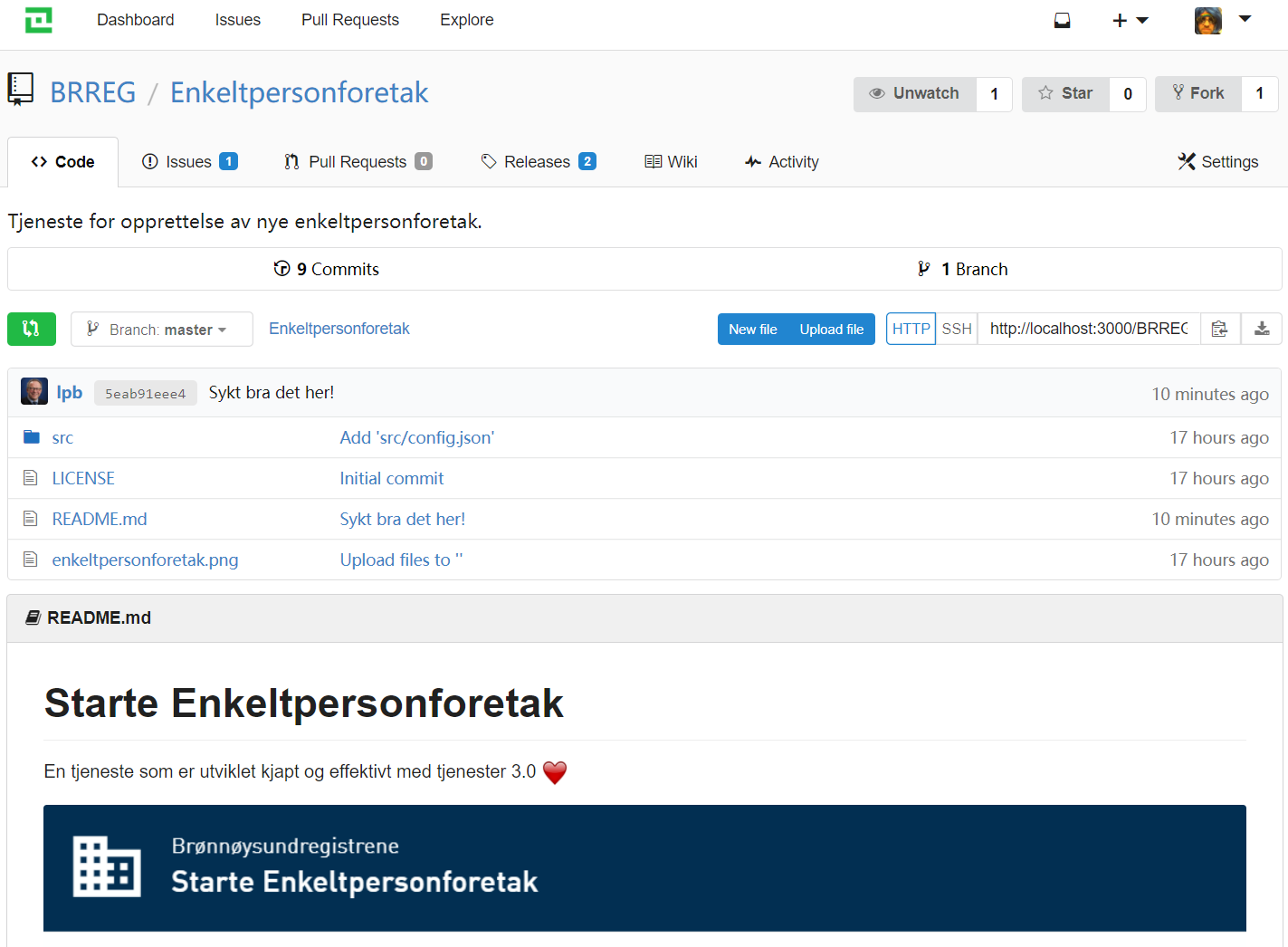 "Altinn Repositories" er en frittstående Git versjonskontroll og Application Lifecycle Management-løsning, som både Designer, kodeeditorer og andre eksterne verktøy vil benytte som back-end og felles sted for å lagre og versjonere tjenestene som utvikles.
Repositories har et GitHub-lignende brukergrensesnitt og både Git og REST-baserte tekniske grensesnitt.

Det vil være en omfattende jobb å forsøke å utvikle en Git + ALM løsning på egen hånd, ref. all funksjonaliteten som behøves.
Heldigvis finnes det flere open source "GitHub-kloner" som vi kan benytte, og blant dem virker Gitea å være mest lovende (uttales som /ɡɪ'ti:/ - "gitty"). Bilder fra Gitea benyttes som eksempler videre i denne dokumentasjonen.
Funksjonalitet i "Repositories"
Repositories inneholder et repository med versjonerte filer for hver 3.0-tjeneste. Eksempel på typer filer som en "3.0-tjeneste" vil kunne bestå av er kode, tester, web-komponenter, layouts og stiler, oversettinger, arbeidsflyt og konfigurasjon.
Repositories vil tilby funksjonalitet rundt den enkelte 3.0-tjeneste, og eksponere funksjonaliteten via både brukergrensesnitt og et REST-API som er en klone av GitHub sitt v3 API-format. Dette er positivt da det finnes andre verktøy som også støtter dette API-formatet, og da det kan forenkle det å kunne erstatte Gitea som back-end med andre liknende Git-systemer.
3.0 Tjeneste
Repository som representerer en "3.0-tjeneste", aka app, og inneholder alle filer som tjenesten består av.
Hver utgave av en tjeneste vil leve i sin egen mappe, slik at ett repository kan inneholde èn eller flere utgaver av den samme tjenesten.
Repository management
Håndtering av repositories er en kjerneaktivitet, da hver tjeneste som utvikles vil lagres i sitt eget repository.
Create/delete repository
Link to repository
Rename repository
Fork repository

Muliggjør at man kan ha et "master"-repository med felles tjenester som flere andre kan benytte, slik som dagens "master-tjenester" bare mye kraftigere
Muliggjør også at utviklere kan lage som egen kopi og teste ut nye muligheter og løsninger på sitt eget område uten å påvirke originalen

List repositories
Download/upload files
Download repo
Create files and folders
Read/edit files
Rename files
Delete files
View raw file
Link to file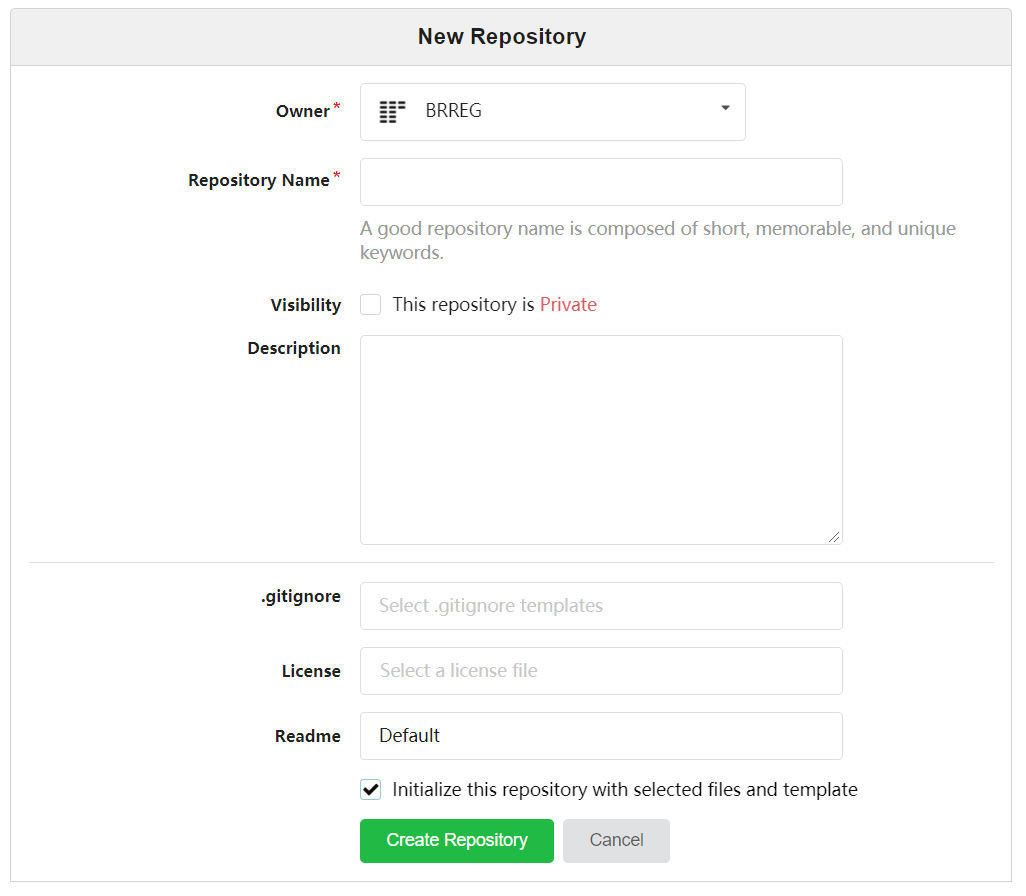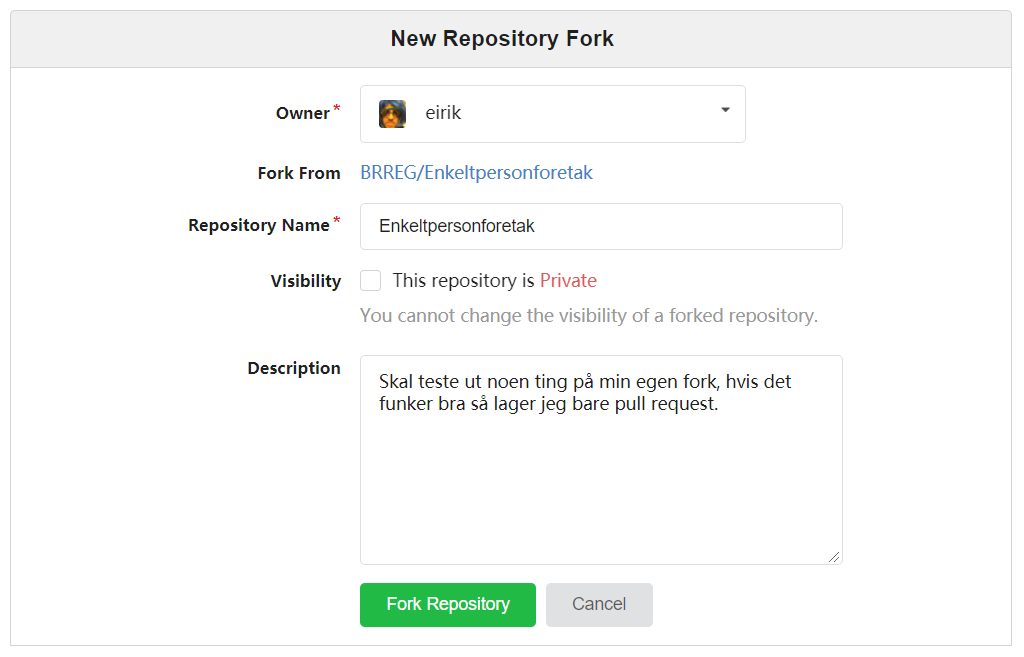 Dokumentering
Det er viktig å ha god støtte for å dokumentere tjenestene man utvikler, slik at det vil være enkelt for andre personer på teamet å bidra. Det er derfor ønskelig å ha innebygd Wiki-funksjonalitet med støtte for å editere i markdown, slik som i Altinn docs og AltinnPedia.
Wiki

Add/edit/delete pages
Markdown editing
Link to specific wiki page
Support for other external wikis
Emojis

Markdown editing

Preview
Fullscreen
Side-by-side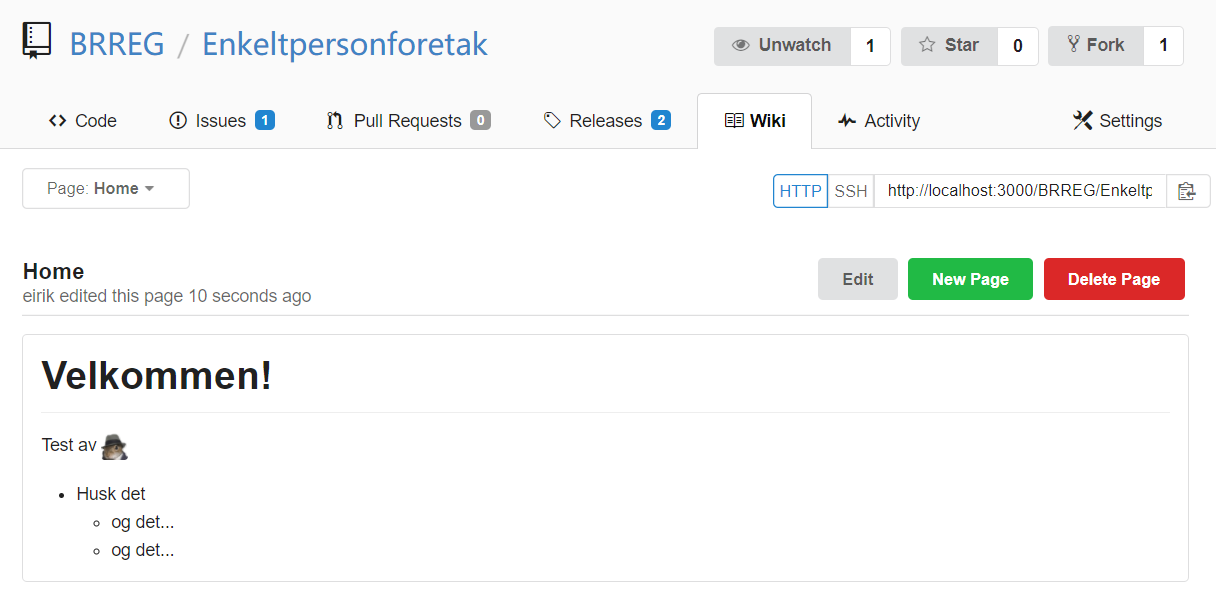 Versjonering
Hver eneste fil som en 3.0-tjeneste består av skal ha full versjonshistorikk, uavhengig av om man jobber mot filene via Designer eller eksternt og distribuert/lokalt i en kodeeditor på egen maskin. Repositories sitt versjonskontrollsystem, som er basert på Git, er laget nettopp med tanke på dette.
Version history of all files, artifacts, code and configuration

Link to each change with a unique id
Link to each changed file
Link to who did the change
Highlight the last change done in the repository
Time of change
Comments/messages

Diff between versions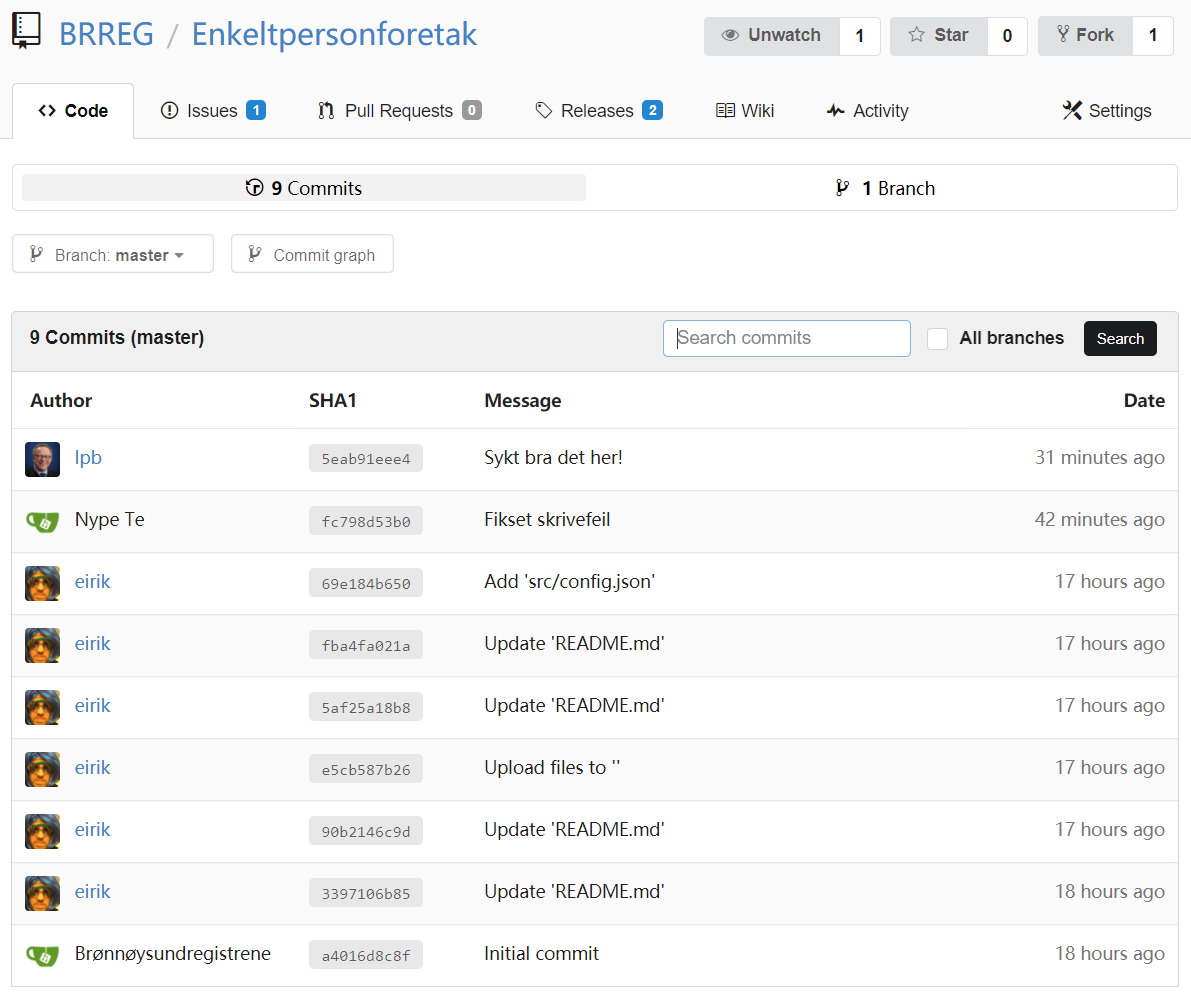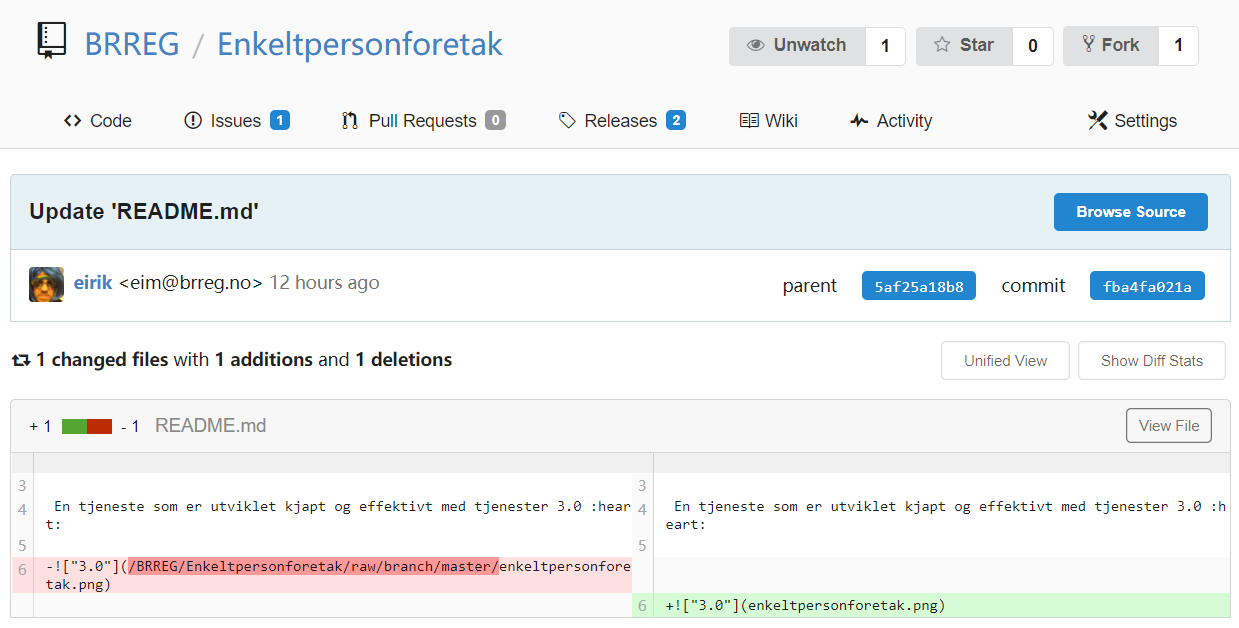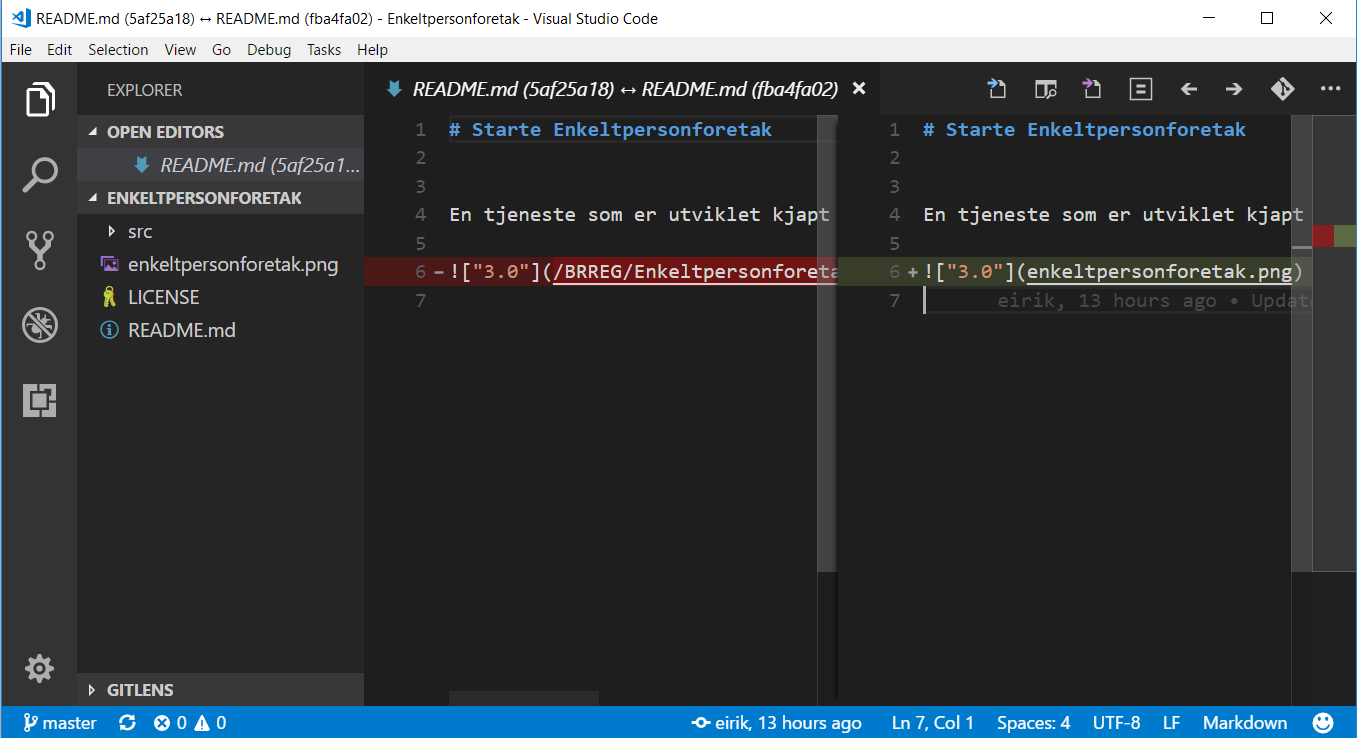 Release management
En svært viktig egenskap når man utvikler programvare (noe som 3.0-tjenester er) er å kunne tagge ulike versjoner, og kunne gå tilbake og teste eller patche en tidligere versjon hvis man ønsker det. Det er også viktig å kunne se alt som har endret seg mellom versjonene.
Siden Git benyttes for versjonering, så vil en release/tag som opprettes peke på en eksakt versjon av hver eneste fil som en 3.0-tjeneste består av, og man kan enkelt se hva som er endret.
Create tags for the 3.0 app
Link to tags
Create/delete releases
Link to releases
Marking of pre-releases
Time of release creation
User that triggered the release
Download zipped files of release
Browse content of a given tag/release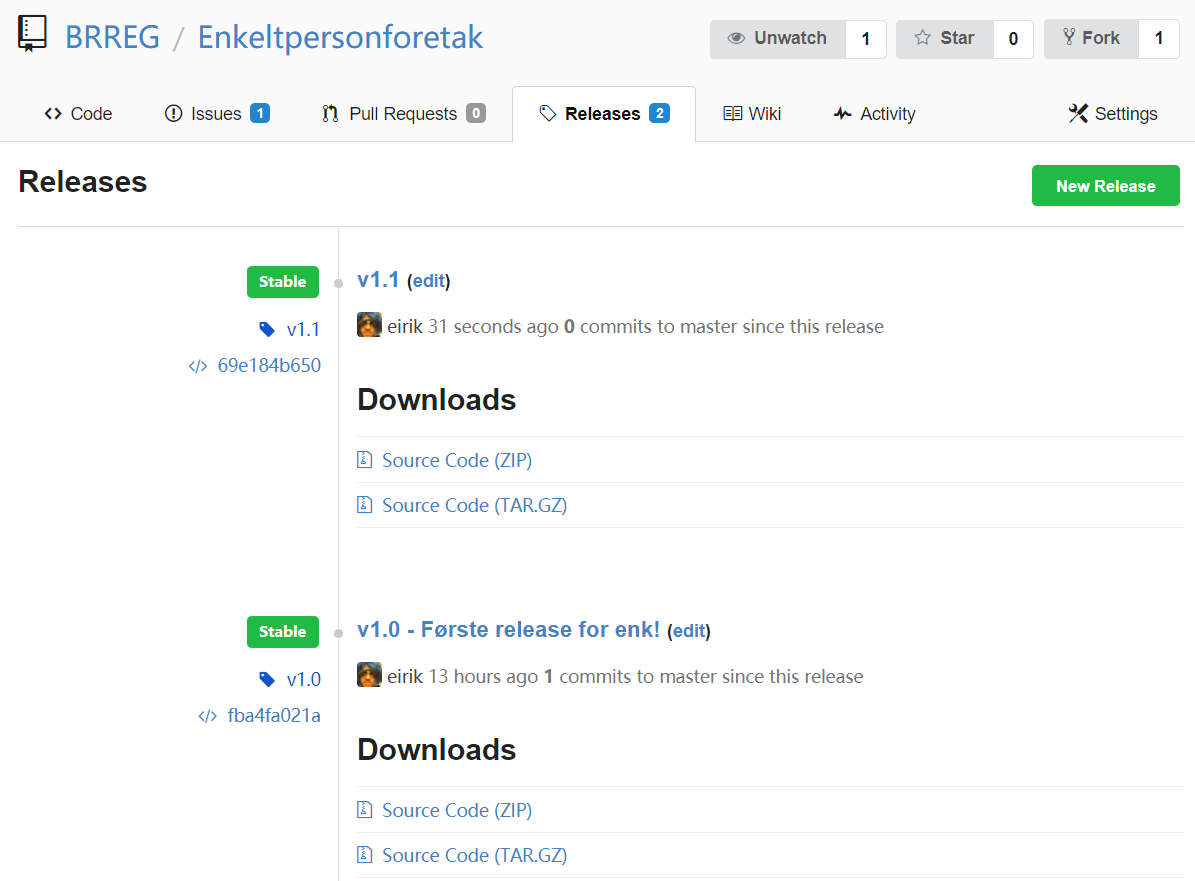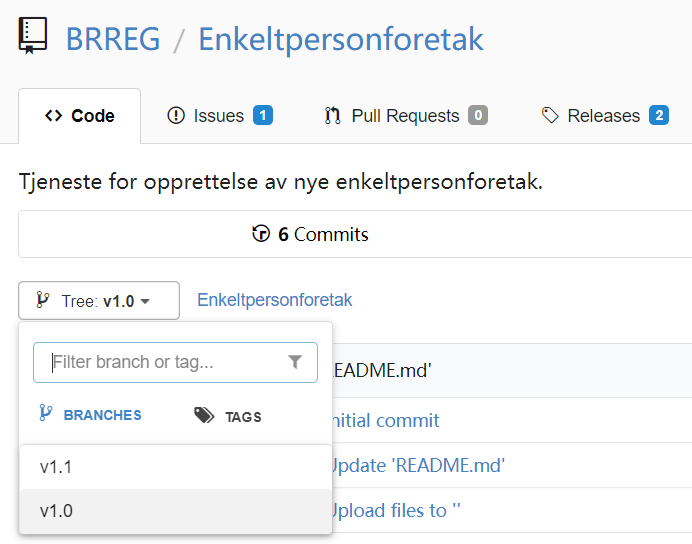 QA
En QA-prosess for godkjenning av endringer basert på branching og pull requests, vil for større teams kunne være mulig. Dette er i tråd med hvordan programvare utvikles, inkludert selve Altinn.
Backlog management
Som for all annen programvareutvikling, så vil hver 3.0-tjeneste typisk ha en egen backlog med bugs, forbedringer, fremtidige features, etc. som tjenesteutviklerne vil jobbe mot. Dette er en sentral del av Application Lifecycle Management.
Create/close issues pr. 3.0 app
Filter issues by open/closed
Add labels
Assign to milestone

Filter issues by milestone

Assign to user

Filter issues by assignee

Markdown editing
Discussions
Add files to issue
Notifications when issues change
Issues search
List issues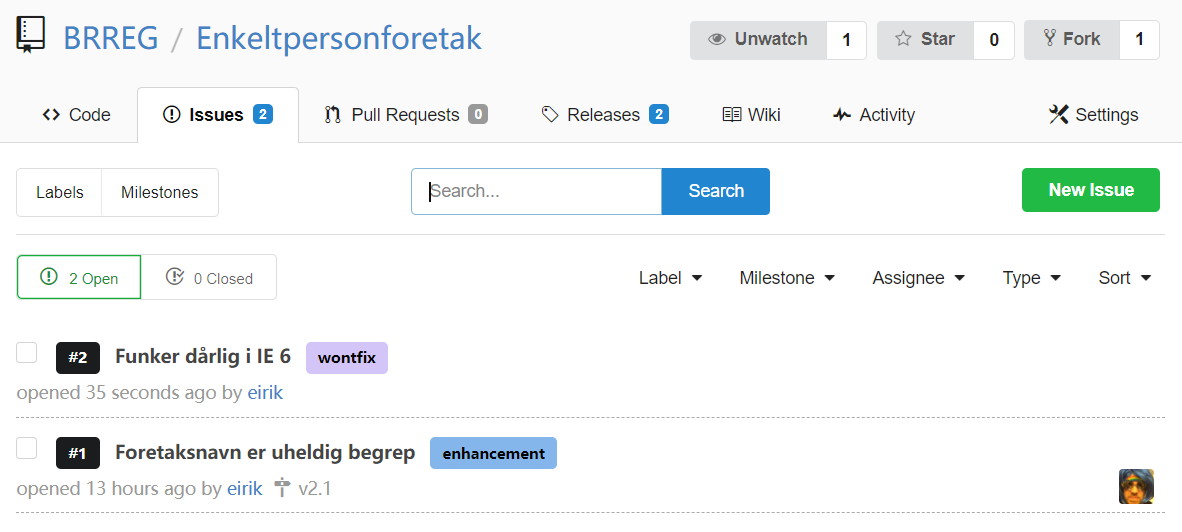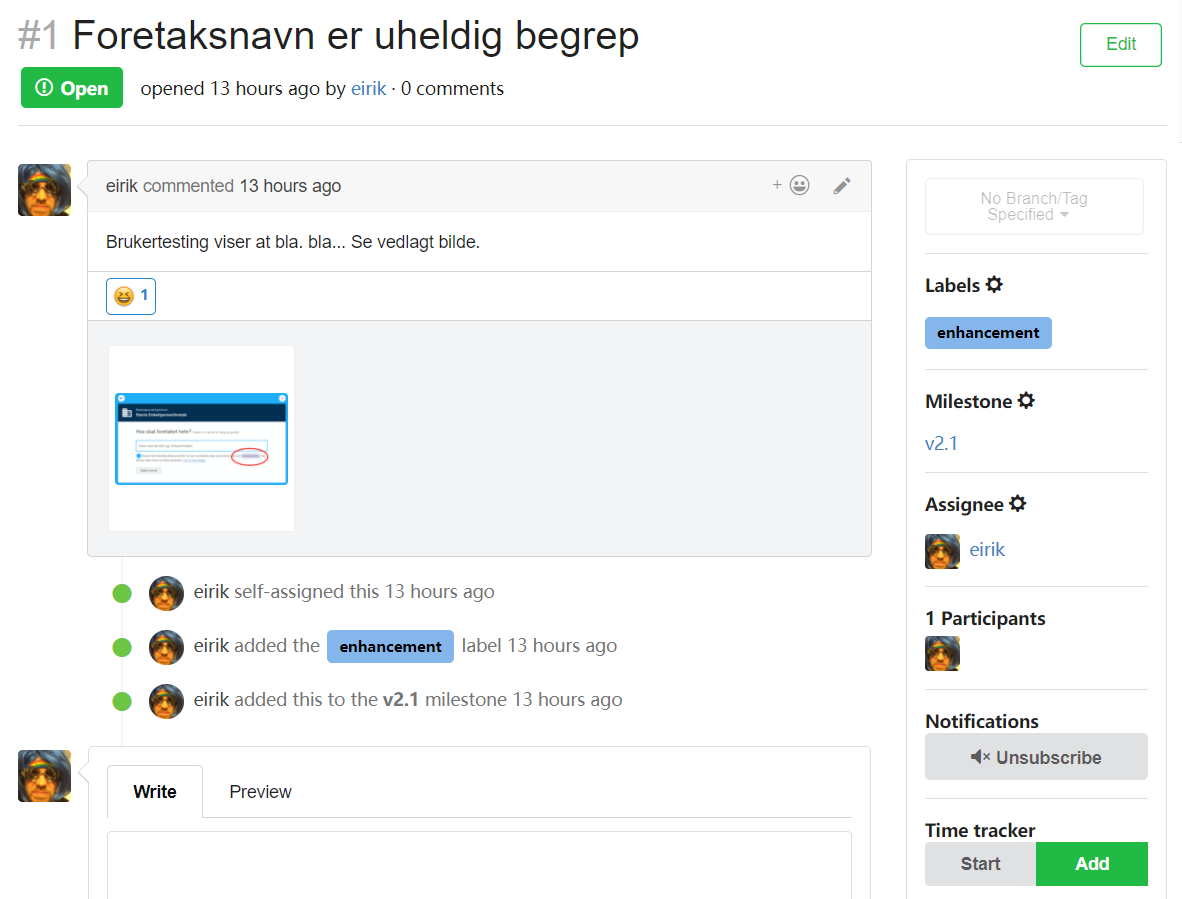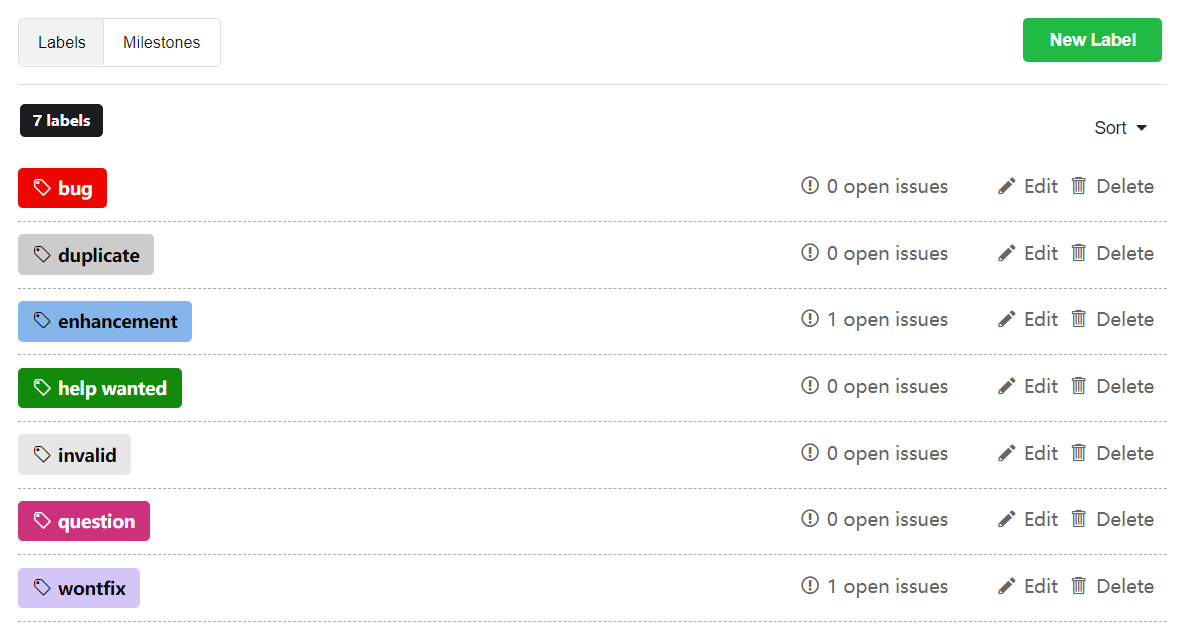 Org management
Organisasjoner er tjenesteeiere, men i 3.0 er det ikke noe i veien for at brukere også kan utvikle tjenester. I en organisasjon så kan man gi tilganger til brukere, og man kan opprette teams med tilgang til en eller flere 3.0-tjenester.
Det å håndtere organisasjonen, som alt annet, skal være 100% selvbetjent.
Create/delete organisations
List organisations
Link to organisation
Create repository for organisation ref. repository management
Add/remove teams in organisation
List teams in organisation
Add/remove users in organisation
List all users in organisation
Add/remove users in teams
List users in teams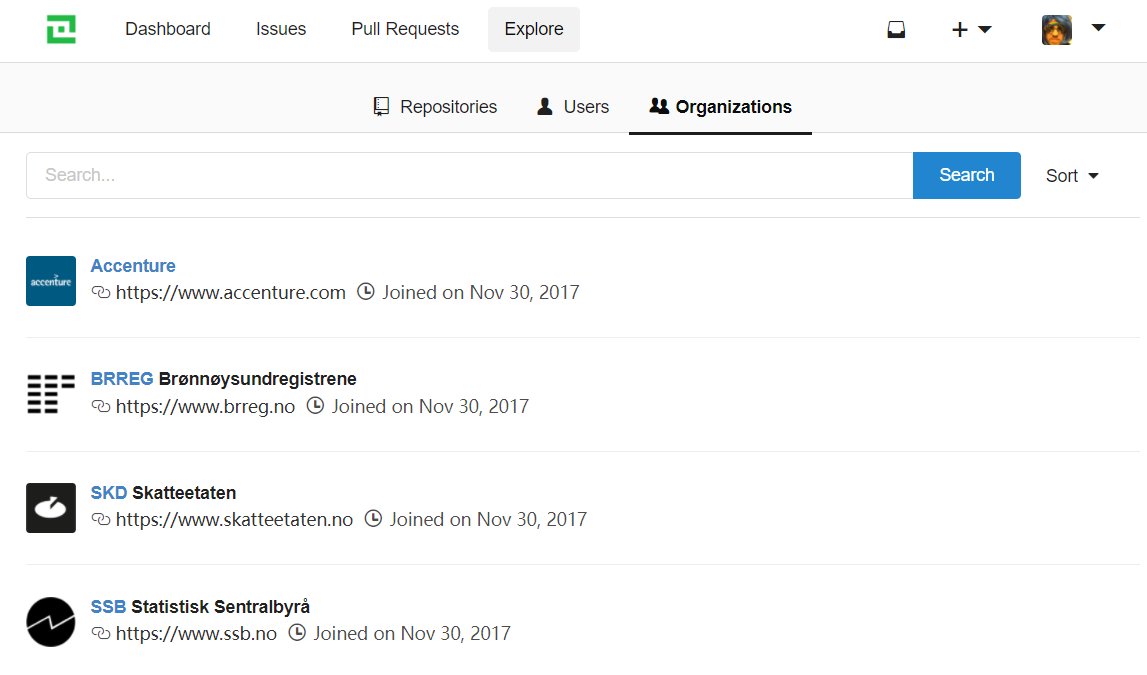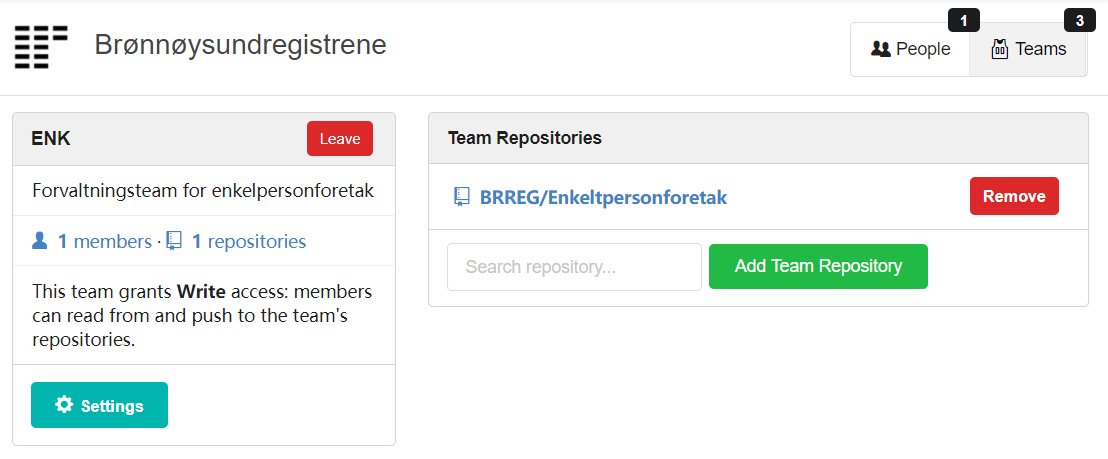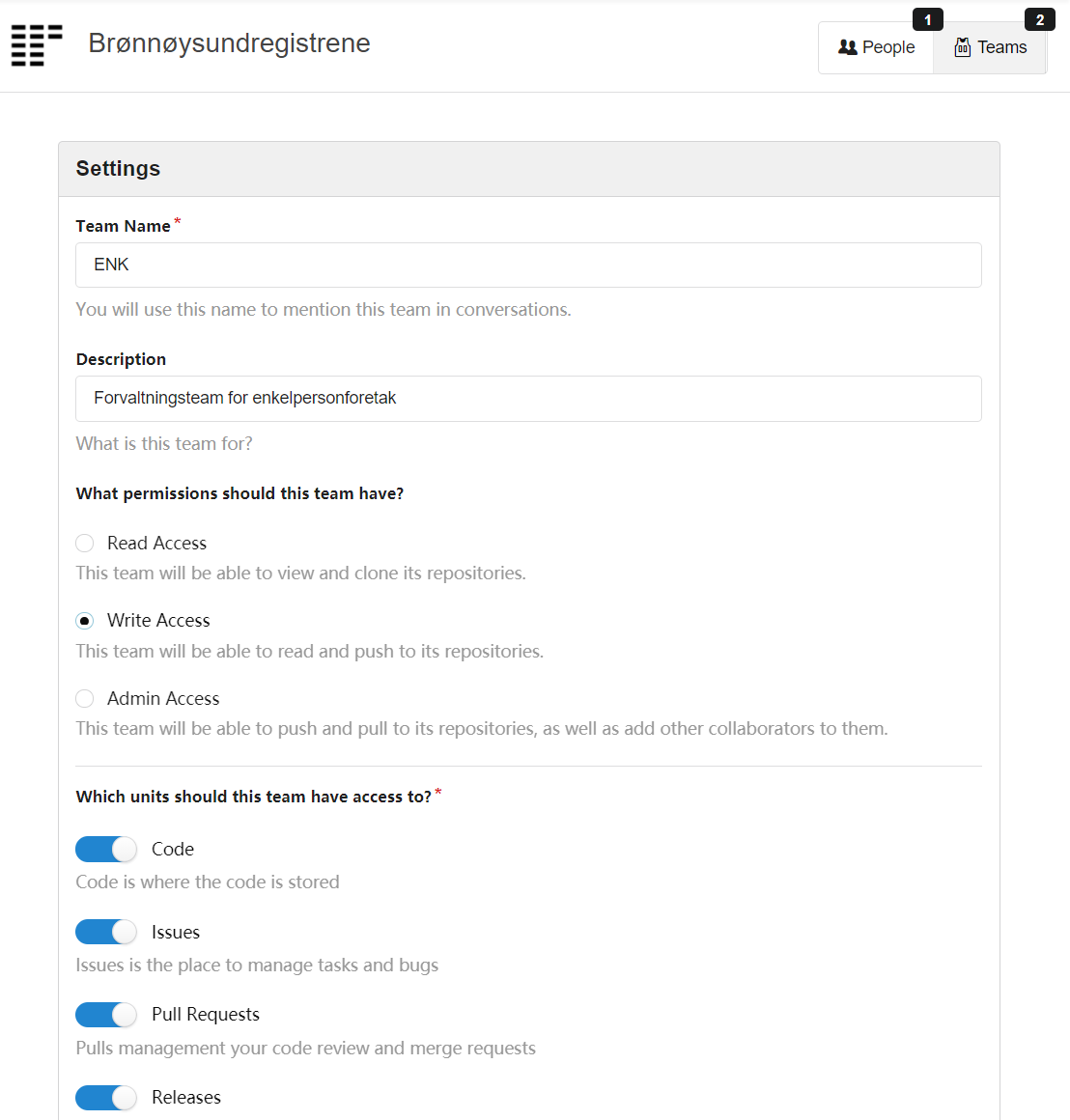 Brukerstyring
Brukerne i denne sammenheng er tjenesteutvklerne. Det å håndtere organisasjonen skal være helt selvbetjent.
Add/remove users
Name
Avatar
Add/remove users to/from teams
"Starring" of favorite repositories
List of user repositories (including forks)
Activity log for user
Workspace for user (dette er veldig viktig, betyr at tjenesteutviklere kan "leke seg" på sitt eget område)
I første omgang (MVP) vil tjenesteeier (org-admin) legge til alle sine brukere i gruppen "owner" slik at de får tilgang til å opprette repositories (tjenester). Gruppen "owner" gir vide fullmakter på organisasjonsnivå (dvs tjenesteeiernivå), så på sikt vil det implementeres mer granulert tilgangsstyring.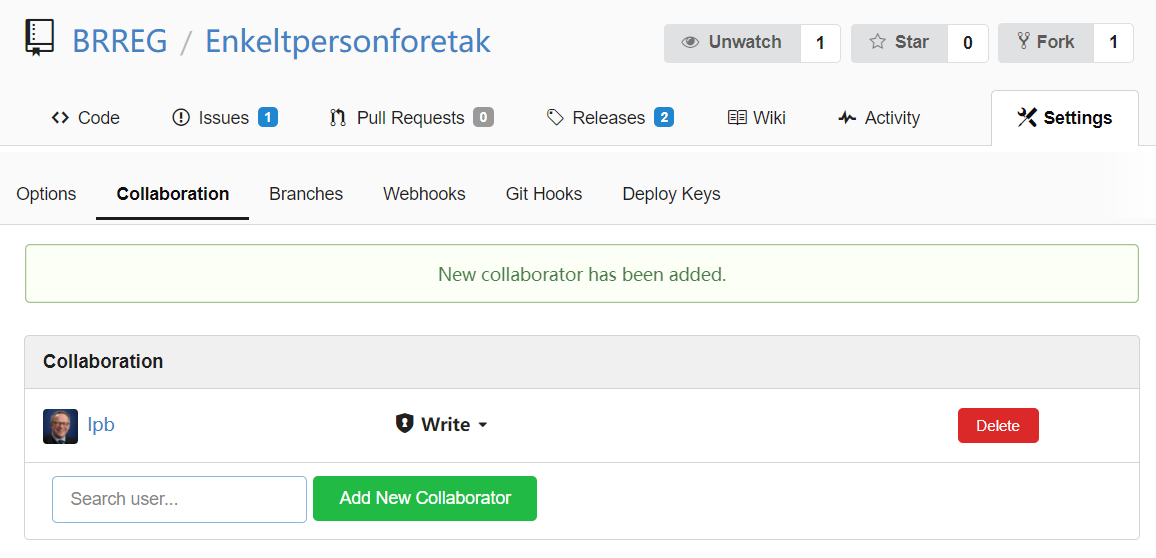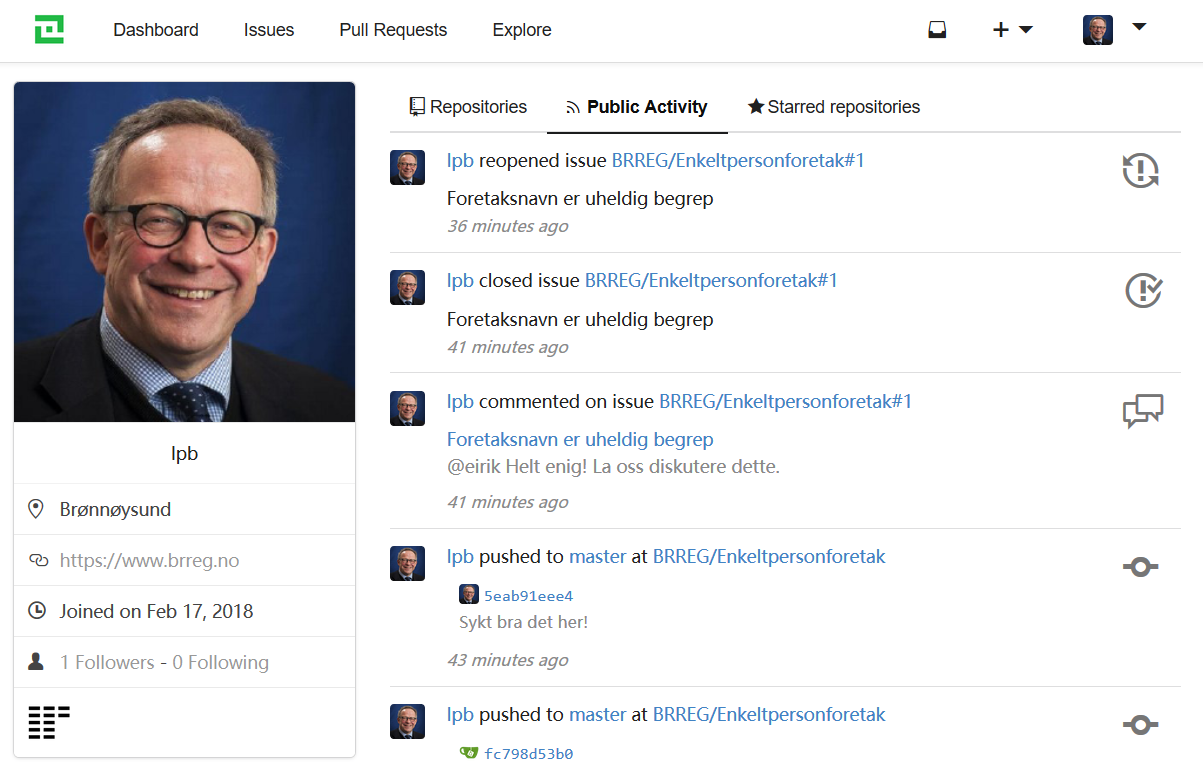 Søke
Søk er viktig for å finne frem, og skal være bygd inn i løsningen.
Repositories
Issues
Edits
Users
Organisations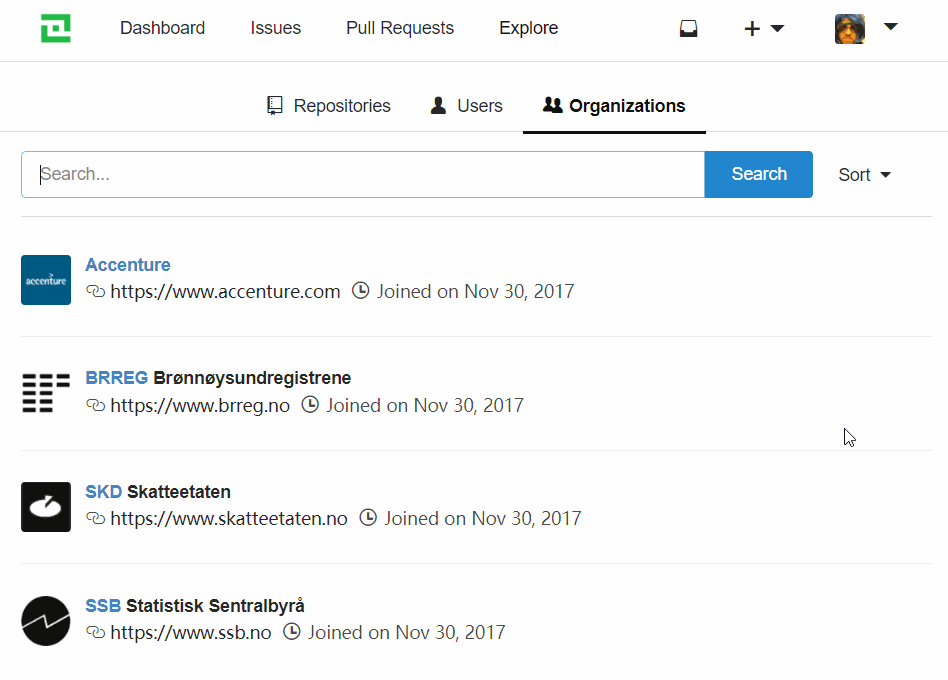 Tilgangsstyring
Det skal være mulig å styre tilgang til repositories, les/skriv/admin, teams, brukere, samt opprette private repos.
Access to 3.0 apps (read/write)
Access to orgs
Users access
Private/public app-repos
Administrator
AM/AD-integration
API access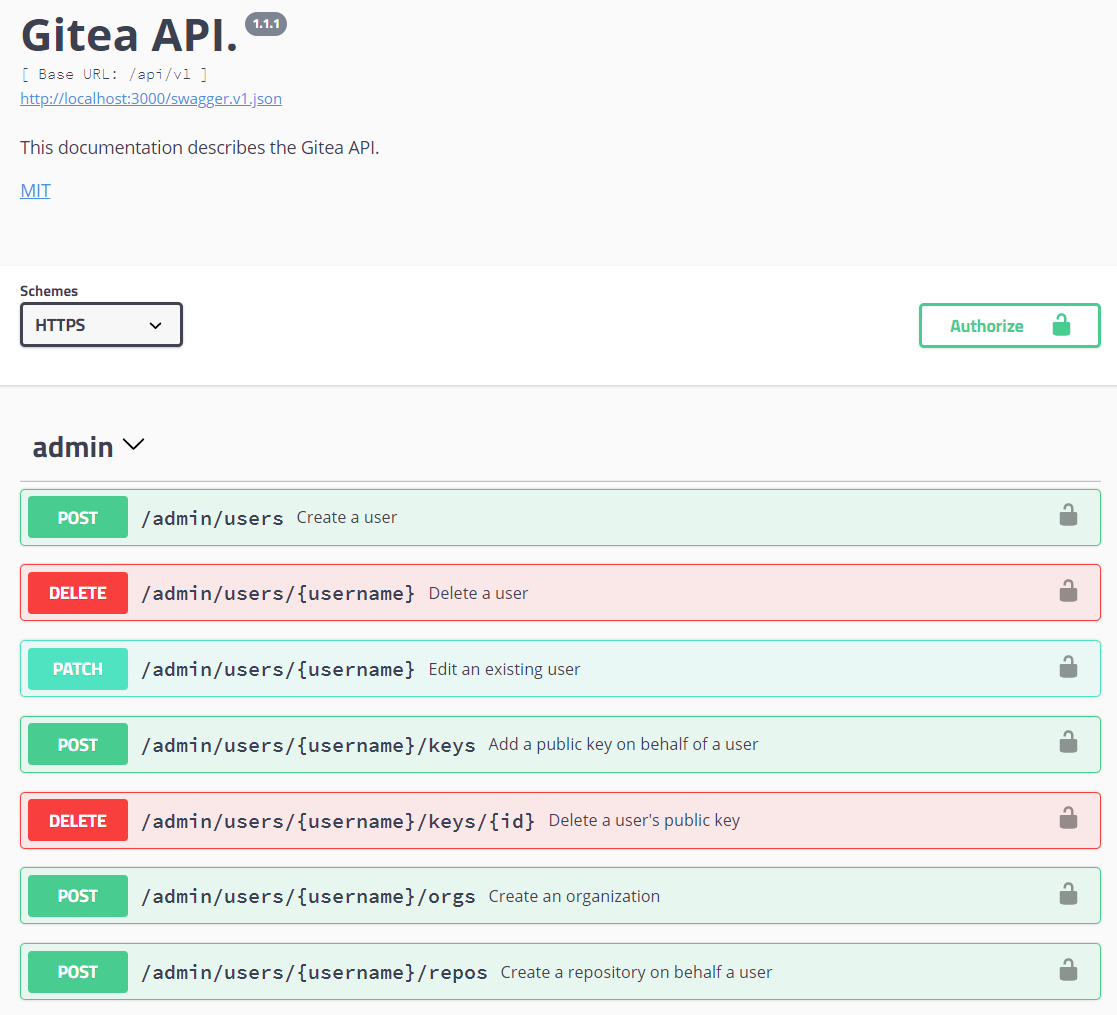 Trigge hendelser
I dagens hverdag, med bruk av Slack og andre systemer ifbm. utvikling, så er det viktig at "Repositories" kan trigge hendelser i andre systemer, f.eks. poste til en Slack-kanal når en endring skjer i en 3.0-tjeneste.
Trigger events at org-level
Trigger events at 3.0 app-level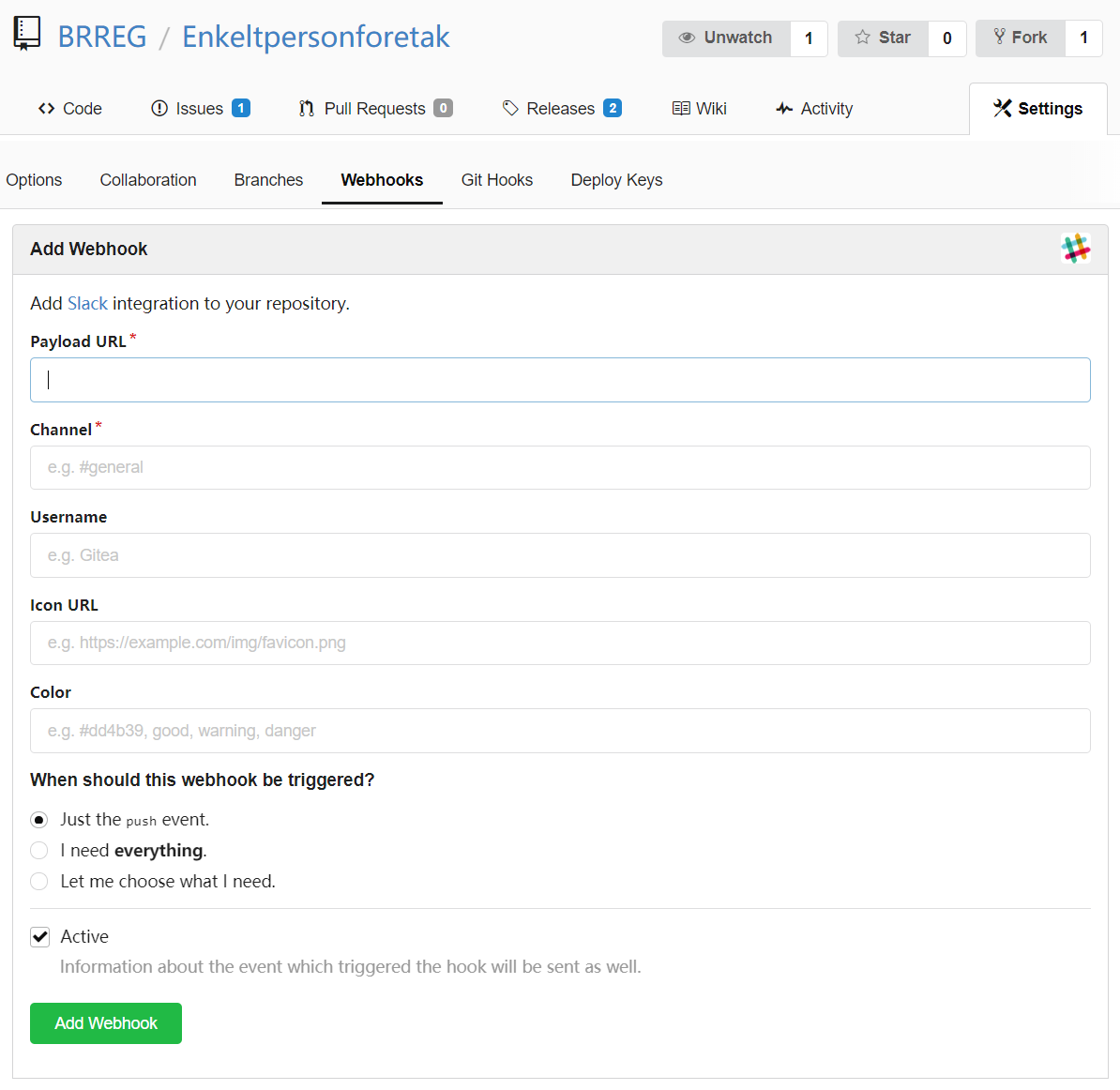 Logge inn
Tjenesteutviklere og andre interessenter skal kunne logge inn og få tilgang til organisasjoner og 3.0-tjenester.
Login page
CAPTCHA?
Forgot password?
2-factor auth
External authentication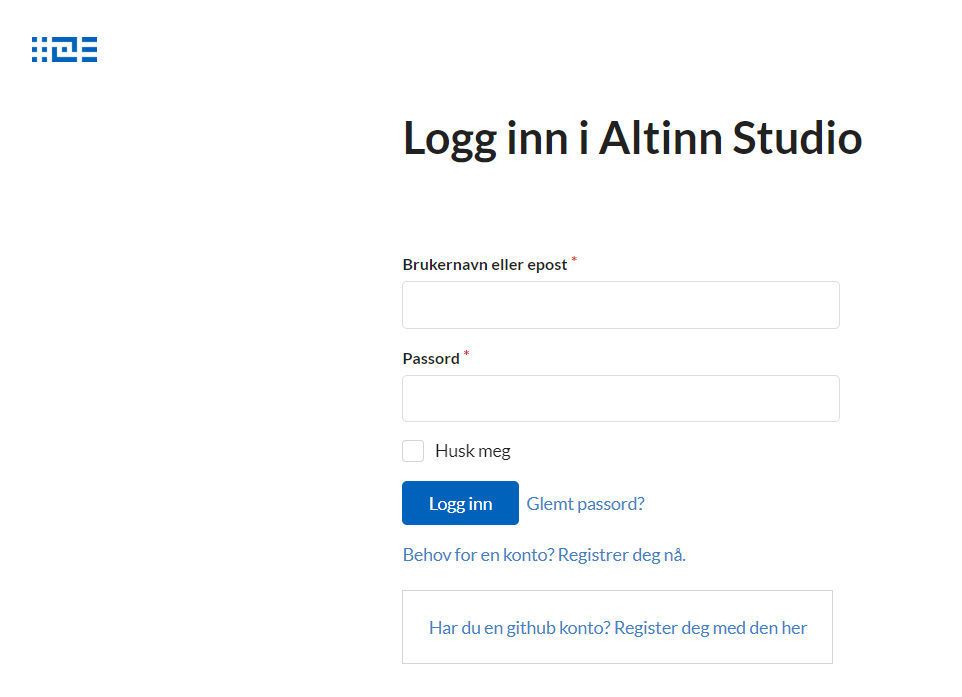 Sende varslinger
Send notifications to users based on events or mentions
User can control the notifications to receive
Users can follow other users and subscripe to issues